Please note* Each item is one-of-a-kind so you cannot add more than one of the same item to your cart.
Custom Orders
Please contact us for custom orders. Choose from a variety of unique wood full of character, and the epoxy resin color choices are endless.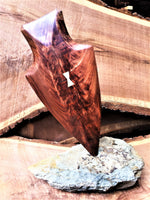 Where wood meets stone
Wood and stone from the mountains of Pennsylvania, skillfully crafted into exclusive original designs. All pieces are one-of-a-kind functional works of art created by Terrence  Hench and his son Zachary (epoxy resin work). Terrence is one of the leading wood artists of his time. Inspired and influenced by the free-form style of George Nakishima, his pieces are dramatic and alive! 
About The WoodenStone
The WoodenStone, LLC is a father-son company owned and operated by Terrence (Terry) Hench and Zachary (Zak) Hench.
Terry has an extensive resume including over 30 years working for the prestigious Woodlore Builder's Studio of Harrisburg, PA. While at Woodlore, Terry was head builder, designer and installer of custom high-end architectural wood working, primarily serving the Harrisburg and Philadelphia areas.
His projects included museums, doctor and law offices, restaurants, bars, private homes and estates, libraries...the list goes on!
Some notable work includes:
-Refurbishing of the PA State Capitol Building
-Hotel Hershey
-Rare Book Library at the Forum in Harrisburg PA
-Yankee Candle shops throughout the United States
-Fashion Café chain in London, NYC and New Orleans (co-owned by Naomi Campbell, Elle Macpherson, Claudia Schiffer and Christy Turlington)
-The National Civil War Museum
-Original Book Binders in Philadelphia
Terry was contracted to do fine woodworking for such celebrities as Mary Kay (cosmetics icon in NYC), Harold Katz (former owner of the Philadelphia 76ers), Dick Phelan's home and businesses (owner of The Gingerbread Man restaurant chain, Rod's Roadhouse and other bars and restaurants), John Vartan (real estate and construction entrepreneur), numerous Penn State professors, and well, you get the idea. 
Over the past 40 years, Terry has been collecting beautiful, rare woods and saving them for the day he can create instead of just build. His house in Pennsylvania, for example, was inspired by wood and stone from local mountain land to create the true work of art he calls home. His mission is to share his talents and appreciation for wood and stone with everyday people.  
"I want to share my appreciation for the gifts that Mother Earth has provided. For every piece and slab of wood there is a place and a purpose." ~ Terry Hench, master craftsman
Thank you for visiting our store!
Please join our mailing list below.